How we used Voice to supercharge customer engagement
Metroleads is a Marketing, Communications and Sales accelerator platform. That's right, we included Communications of which Voice, and now Video are key.  MetroLeads is also a global Telephony service –  MetroVoice.  Communication is a fundamental part of marketing and sales and which is why it is in our core, unlike other CRMs where they integrate with 3rd party vendors. Staying true to that core we have a new addition to the MetroVoice suite- Virtual Voice assistant aka VoiceBots. Read on to know more about it.
And, we're talking about personalized life like Virtual Assistants that greet you by name, have your context (reason for call, interests, &  history) and ask questions.  
What that means for business is they can manage communications, information dissemination, marketing campaigns, follow ups, out reaches through One Platform in One Place.  You can capture (and route) calls for multiple purposes like digital campaigns, social media, visiting cards, websites, hoardings, portals, support, etc, track and manage all the customer and team communications, define and customize routing strategies based on expertise, teams, office hours, etc in different locations and do all of this and manage your sales life cycle all in one single platform from the comfort of employees homes – Yes – Work From Home!
Our mission is to help Marketing, Sales, and Support people to be productive – wherever they are located. Help reduce their mundane and repetitive tasks and give them a breather after hours and turbocharge them during business hours. 
Knowing our customers
The idea is to use MetroVoice as a hook to leverage the vast features of Metroleads ecosystem to help the salesperson be productive and leverage their time to high value leads without spending time on Metroleads at all! It sounds strange coming from a product company when user engagement is measured by how much time he/she spends in a product.
Being a CRM for communication, marketing and sales, we are aware of the customer engagement practices "telesales", "real estate", "B2B ecommerce", "service sector", "manufacturing industry" and "high retail" companies use. 
The engagement period is longer as the items being sold are high priced (Flats, yachts, machinery, product inventory, legal services, etc) and there are multiple touchpoints with the customer before a purchase.

Phone calls are still the most used and preferred choice of engagement for salespersons, brokers, outbound marketers, and field agents in these industries. 

Data driven communications, with knowledge sharing, nurturing and overcoming doubts are a must.

Businesses rely on both outbound and inbound sales approaches, aka, communications.
For every human interaction over voice, it's not only important to understand the mere words but to understand the intent of the caller to facilitate the appropriate next steps. 
The telephony industry has been using auto-attendants and interactive voice response system (IVR) to receive calls from customers and process them. IVR is a combination of recognizing input via DTMF and routing. Metroleads provides the perfect platform for telephony features and robust lead automation and it was time to blend them together. Hence we decided to build "Virtual Voice Assistants" that are customizable to your business needs.
Approach
The tight integration between the voice and CRM delivers a seamless experience for a salesperson from calling the customer for the first time, to carrying the caller journey forward to assigning tasks and follow ups for other team members.When building the "Voice Assistant" we wanted to focus on 2 primary activities the salesperson does.
Calling or receiving calls from the customer

Updating the CRM, to keep the system and manager updated

Progressing the customer journey/relationship
We also wanted to stay away from "Chat Bot" in the pilot phase. In the spirit of keeping things simple going completely "UI free". 
So how do the  Virtual Assistants (VAs) work?
VA is built for each company, which can be used/ leveraged by each user in the company. It acts like a real user, capable of making and receiving calls and updating leads.

Each customer defines the characteristics of the VA as their business sees fit.
Customers can define
Name of the assistant
Language the virtual assistant will speak in 
Voice ( Male and female)
Accent
Role of the Assistants, i.e., meant to be a virtual versions of your different staff. Our virtual assistant can ask and provide information like your staff would – based on role, particular situation or process. It can remember and note down details of the conversation like a real person would, it can follow up, handle specific customer engagement situations or inquiries, etc.
Calls are routed from any virtual numbers to the voice assistant. So multiple calls are handled by the VA at any given hours!
VA calls are flagged with respect to calls conducted by persons. 
VA creates or updates lead details, according to the information provided by the customer over the call
Multiple VAs can be added based on the function/roles and volume the company wants it to perform.
VA can be online 24×7, which means VA can take calls from the customers after hours, on holidays and any high traffic time period. VA can expedite the requirement gathered from the customer to the right stakeholder as it can understand the intent.
There is always a fall back in case the assistant doesn't understand the customer in which case the call will be routed to a user or customer will be given a default option.
Virtual assistant can understand multiple languages and can answer in the language chosen by the company
VA recalls the context of the last conversation every time the customers calls. It carries the caller journey forward to the next step like a real person.
While the core of the lead management is handled by Metroleads, asking for information from the customer, recognizing the intent and transcribing the information collected in Metroleads is done by the Virtual assistant.
With the above guidelines in place we built sample Assistants for our customers.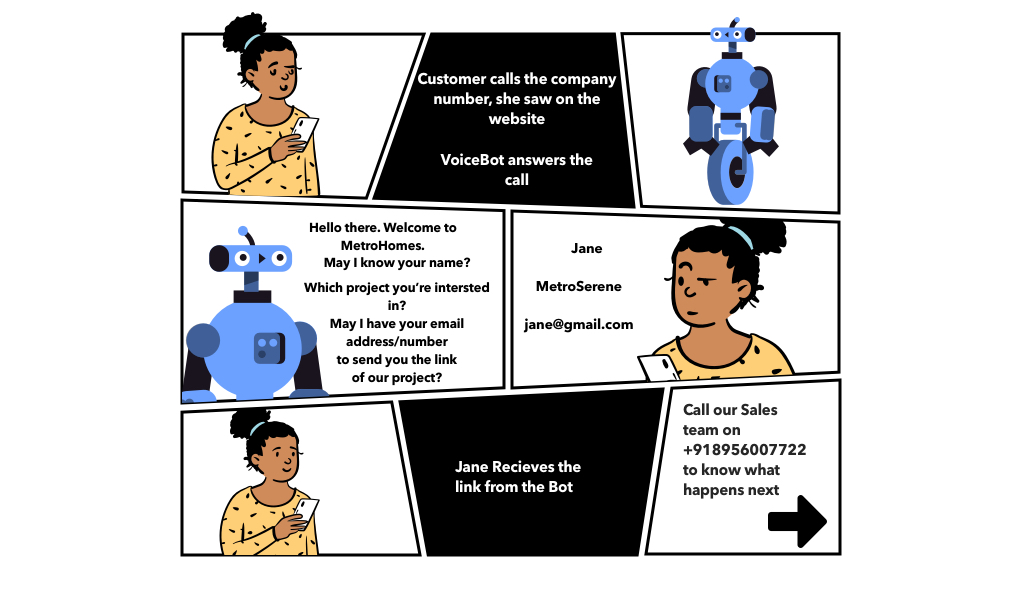 Sample virtual assistants
Lisa, New lead RE IVR: This Real Estate specific IVR is for the new home buyers who will ask information about their home requirements: size (1 BHK, 2 BHK), budget ( 70 lakh, 1.5 CR), a company project they might know about (Metro Gold) and their name. The information will be updated in Metroleads and assign a follow up task for any of the presales members.
The assistant captures essential information of the customer before the sales agent even comes on the call. 

Call-Me-Back: An after-office hours assistant as part of the call routing. The assistant informs the customer of the unavailability of agents and asks them for the preferred callback. The Assistant will also set a reminder for the sales agent to call the customer back in regards to the matter. This is envisioned to be like voicemails, a practice that is not so popular in India.
In times of remote working and team availability hanging by the thread leveraging technology is the wise choice. 
Site Visit Reminders: A Site Visit Reminder is a call placed to the Lead asking for the confirmation. If the customer can't make it, then the Site Vist is re-scheduled after confirming the suitable time by updating the site visit scheduled task for the user. 
In the times of remote working site visit can also happen virtually (ask me about Teleport). Staying home and yet engaging with customers is the way forward. The assistant can understand English or Hindi. Perfect launch in local markets as well.
What does success look like?
The call me back assistant answered, spoke to, got responses, and captured responses for 80% of after hours calls in the pilot itself! That's 8 of the 10 leads which could have been completely missed because no one could answer them.
There you have it! A quick look into Metrovoice and Metroleads
It's been an amazing journey so far exploring various ways assistants can be trained. We have a lot more things planned ahead for Voice assistants and MetroVoice. Stay tuned ahead to know more.